Trenton IGA Foodliner
Recipes
https://www.trentoniga.com/Recipes/Detail/344/Barley_Risotto_with_Butternut_Squash_and_Kale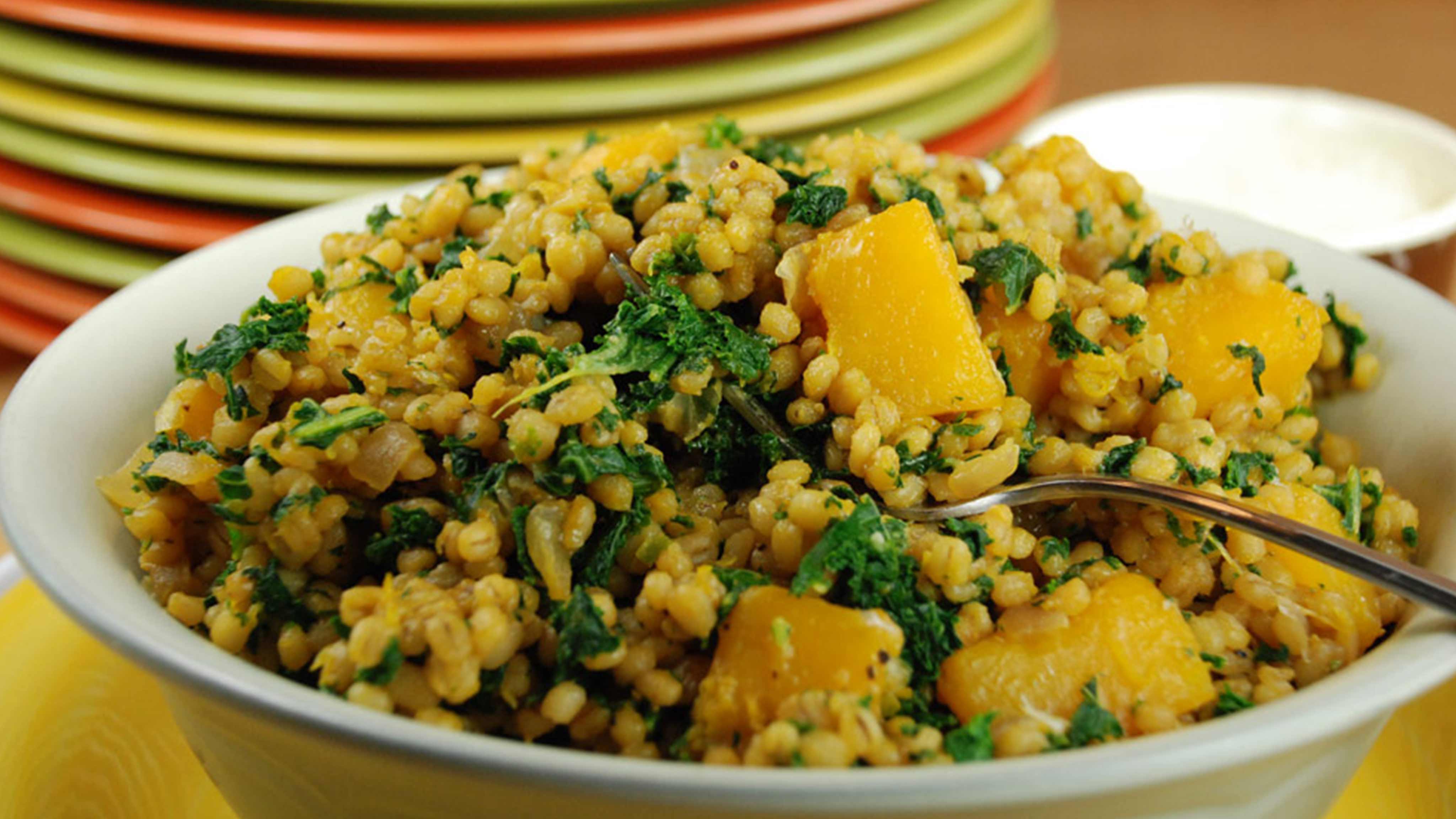 Barley Risotto with Butternut Squash and Kale
Fall colors on the dinner table!
Yield: 7 (1 cup) servings
Ingredients
1/2
pound

kale, stems and thick ribs removed

6
cups

(48 ounces) reduced-sodium chicken broth or vegetable broth

1
cup

water

1
Tablespoon

olive oil

1

large onion, chopped

1 1/2
cups

pearl barley, rinsed

1/2
cup

dry white wine

3/4
pound

butternut squash, peeled and cut into 3/4-inch cubes (about 2 cups)

3/4
teaspoon

salt

1
teaspoon

freshly ground black pepper

1/2
cup

freshly grated Parmesan cheese
Directions:
Bring an 8 quart pot of water to a boil. Add kale and cook for 3 minutes. Drain and set aside to cool. When kale is cool enough to handle, squeeze out excess water, coarsely chop and set aside.

In a 5 quart saucepan, heat broth and 1 cup water over medium heat until simmering. Keep warm.

In 8 quart pot, heat oil over medium heat. Add onion and cook, stirring for 3 minutes.

Add barley and cook, stirring for 1 minute.

Add wine, stirring constantly, until wine has evaporated.

Add 1/2 cup warm broth from medium saucepan and stir until most of the liquid has been absorbed.

Add squash. Continue stirring and adding broth, 1/2 cup at a time waiting until liquid has been absorbed between additions. Continue process until barley is tender and creamy yet still firm, about 40 to 45 minutes.

Add reserved kale stirring continuously until heated through, about 1 minute. Remove from heat and season with salt and pepper. Serve garnished with grated Parmesan cheese.
Photo and food styling by Webstop
Note:
The risotto will keep, covered, in the refrigerator for up to 2 days. Add a little broth or water and gently reheat.
Please note that some ingredients and brands may not be available in every store.
Trenton IGA Foodliner
Recipes
https://www.trentoniga.com/Recipes/Detail/344/